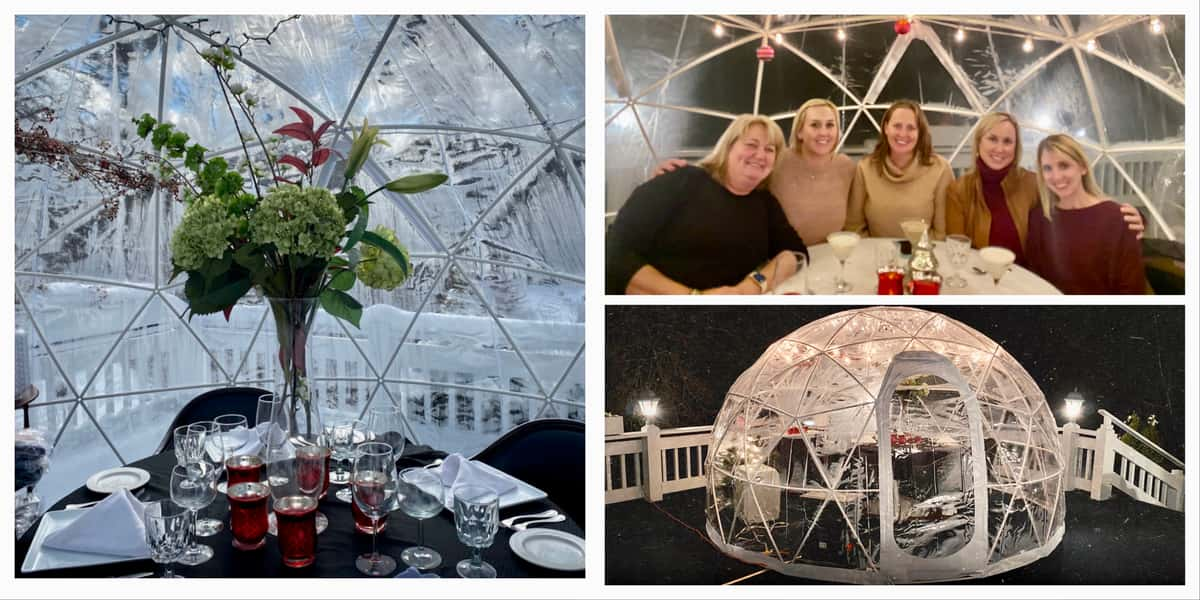 Clay Hill Farm Igloos
Clay Hill Farm Igloos
Clay hill In the before times, outdoor dining wasn't a regular occurrence - and certainly not year-round. On the Maine coast it wasn't unheard of but still, regardless of climate, most people were clamoring for the comfort of inside dining.
Then, of course, COVID happened and restaurants - and its patrons - were forced to rely on their creativity and adapt. Businesses were setting up shop on the lawn and placing tables by busy streets. Tables were removed and signs were put up to signal the need for social distancing. Then, once the summer weather waned and the Maine chill started to sink in, city hot spots invested in fire pits and other outdoor heating lamps to encourage customers to venture outside still, promising the same level of ease and less person-to-person contact.
At Clay Hill Farm, space is something we have in abundance, something that's made adapting for the COVID world an interesting challenge as we've spaced tables and opened up rooms for greater distance between visitors.
As the dining world has, like everything else, changed in the past two years, Clay Hill has adapted and utilized their space for spacious dining which allow diners the comfort that comes from eating out with an attentive staff, specialty cocktails, and cozy, seasonally dressed settings while also allowing the customer the sense of solace that comes from the open dining room settings.
This winter, to rev up the romance or to add an extra level of specialty into your next occasion, try out our dinners in our fabulous domes.
With its cozy interior and lush landscapes, Clay Hill Farm has become a destination hotspot for visitors and inhabitants of the coastal Southern Maine area. It's the perfect location for special occasions, holiday celebrations, or a date night for two.
The Clay Hill style Igloos offer up a romantic and festive alternative to regular dining. Beautifully decorated and lit with a sense of fantasy, the domes are well suited to those wishing to further enhance their dining experience. The igloos provide all the comfort of inside dining with the bonus of divine fairy lights and experiencing the outdoor sights in winter - something all New Englanders could use more of!
While the igloos are heated, it's advised customers still layer up. As much as we wish we could, we can't change the winter temperatures in Maine. All igloo reservations are weather-dependent and subject to cancellation based on inclement conditions. Clay Hill Farm reserves the right to cancel igloo reservations if safety is a factor due to weather.
The igloos can fit up to six people so whether it's to impress on a date or host a small gathering of friends and/or family, make sure to make your reservations for December early. To rent an igloo there's a $50 per person minimum for food and beverages plus the rental fee. Credit card information will be taken upon all igloos reservations but will not be charged until the night of.
The four igloos face the front and back yards, both of which become a winter wonderland, maintaining their charms even in the chilly weather. Reservations become available on Thanksgiving Day and must be made by phone reservation only by calling. (207) 361-2272
The rental pricing is as follows throughout December
Sundays, Mondays and Thursdays - $50
Friday 12/10, Saturday 12/11 - $100
Friday 12/17 - Saturday 12/18 - $75
Holidays: Thanksgiving, Christmas Day, and New Year's Eve - $100
To see more pictures of the igloos, click here! We look forward to celebrating the season with you and yours.