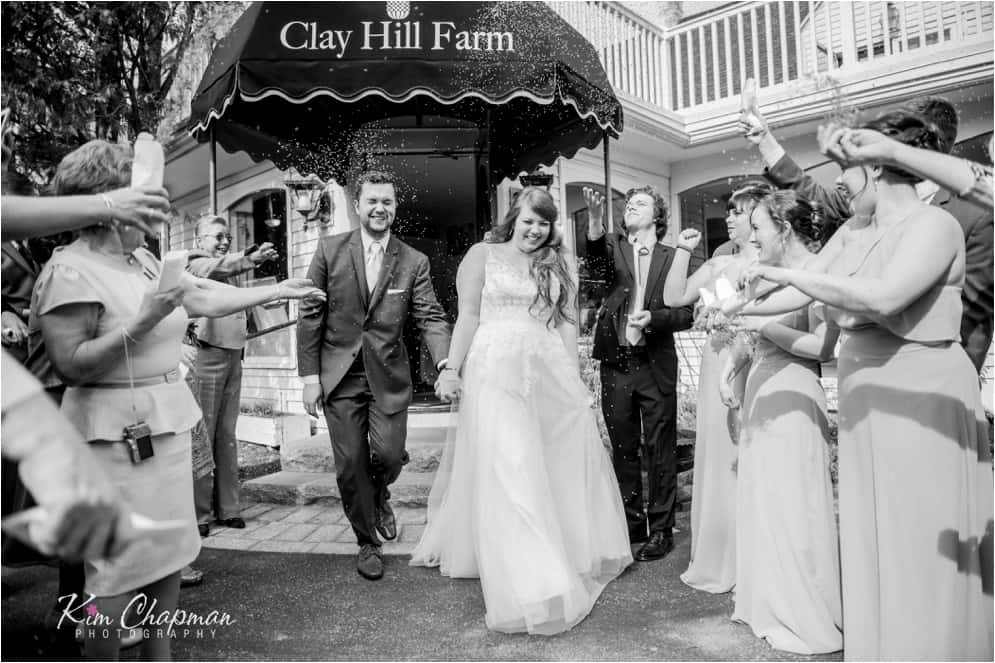 5 Best Wedding Venues in New England: Maine Edition
5 Best Wedding Venues in New England: Maine Edition
Some of the best wedding venues in New England are in Maine, with its unparalleled beauty and plentiful venue options. Whether you're looking for a rustic farm wedding, an ocean side wedding, or something more unique - you'll find it in Maine! Let's take a look at the 5 best wedding venues in Maine.
Sebasco Harbor
Sebasco Harbor Resort is located in Sebasco Estates, Maine. It's a great option for those looking for a custom wedding that fits any style. Whether you want casual or ornate, they've got you covered. On the property, Sebasco Harbor offers six unique wedding sites that can accommodate many types of wedding sizes and provide several different views. You may choose to exchange vows with a rocky coastline background, woodlands full of lush greens, the Islands of Casco Bay, or even surrounded by fragrant roses and luxurious gardens. No matter what you choose, you'll have breathtaking wedding memories and photos that will last a lifetime.
Clay Hill Farm
When it comes to southern Maine wedding venues, nothing tops Clay Hill Farm. This is the perfect venue for any bride wanting a classic "storybook" wedding. Whether you're planning a grand wedding with lots of family and friends or a micro wedding, Clay Hill Farm has a beautiful property that will not disappoint. You'll find gardens, ponds, decks, nature trails, and much more. They have an indoor reception area that can seat up to 220 guests and an outdoor area that can accommodate another 200 guests under a sailcloth tent.
This really is a unique venue with a romantic ambiance. You'll love that it's located just minutes from the Atlantic Coastline where you can take in gorgeous views of lighthouses, harbors, and white sand beaches. Don't forget to schedule a photo-op near Clay Hill Farm's own Perkin's Cove. From the scenery to the award-winning food that's prepared in-house, it's one of the best wedding venues in New England. Brides and grooms often come from New Hampshire, Massachusetts, and even Vermont.
Casablanca Cruises
Are you looking for a truly unique wedding? Head to Portland and check out Casablanca Cruises. Here, you and 149 of your closest friends and family members will board an 85-foot charter boat that features two decks. This boat is spacious enough for both your reception and ceremony! Let's face it- who doesn't love a day on a boat? Casablanca offers two fully stocked bars and will cater your event if you choose. Perhaps the best part is you will enjoy an ever-changing backdrop of lighthouses, Casco Bay forts, and islands.
Samoset Resort
Samoset Resort sits on 230 acres of oceanfront property that overlooks the Penobscot Bay. It offers the perfect location for the romantic wedding of your dreams! If chosen out of the list of Maine wedding venues, you'll exchange vows on manicured grounds that provide views of the coastline. You and your guests will have a blast dancing the night away in an enchanted ballroom or under a tented pavilion. Samoset Resort has cottage accommodations that include amenities such as tennis, swimming, golf, a day spa, and more.
Kingsley Pines
Perhaps you are a fan of camping and would like to plan a unique wedding in the wilderness. Kingsley Pines is a lakeside facility that rents their property out for private weddings when camp is not in session. Located in the Sebago Lakes Region of Maine, they have sandy waterfront property and can accommodate up to 275 guests. You'll find several buildings, athletic fields, and traditional cabins that are comfortable for overnight stays. The best part is they only allow one wedding party at a time so you get exclusive use of the property and all the amenities!